Assalamualaikum.
and now i'm one year older...
ouh!tidak!
i wish i'm still a kid.
ngee~
anyway,
kalau nak ikut first person yang wish,
is this lil bro.
last month lagi da wish..
ala the one yang bagi hadiah tu..
next is my sis,
minggu lepas,
beliau post this pic of cake yang dia buat.
eleh,bajet dia sorang je pandai buat.. :P
da la x tinggalkan pun??
baik x payah..
next is my family,
hari rabu, 10 malam,
my dad pun called..
hihi!!
masa tu tgh berkumpul dengan budak
sapphire
.
x join pn diorang makan,
saya da makan tomyam la masa tu!!
then comes my best friend kat sini,
i read his message masa
pagi
la kan?
maklumlah,
balik sapphire tu saya sangat ngantuk.
so,terus tido tanpa sempat charge phone..
then my KG yang sweet,
wish kat kafe.
ada plak tu,
sorang manusia lain nak CURI my
birthdate
.
dear, u born in january,
be it la!! :P
then datang la yang lain2 sume tu..
ouh.
the last person i talked to last night,
was my best friend kowt?
the other one la..
punya la busy dia ni mengalahkan
menteri
.
haha!!
katanya sibuk ngan rugby..
dan pagi ni buka fb,
ada satu vid kat fb frm my batchmate kat sana..
sweetnya!!
boleh
tengok kat sini
.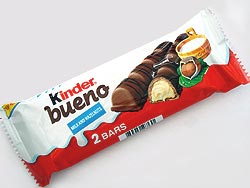 penat la camni..
semua orang agak sweet..
ada la this cute friend of mine,
sweet nya..
maklumlah,
xde orang nak bagi kinder bueno kat saya..
xde orang pernah bagi pun..
huhu~
so,
that how my birthday goes la..
alhamdulillah,
walaupun ada suara2
sumbang
,
yang cakap saya ni telah tua..
tp saya x kisah..
i mean,
pernah la plak saya kisah pasal apa org cakap?
durh~
so,da~
sekian,terima kasih. ;)